Which gas cylinder do I need?
The size and weight of a gas cylinder largely depends on what it is to be used for. We recommend our smallest cylinders with a capacity of less than 10 kg for leisure activities. This may be for example for a barbecue, or when you need a gas cylinder for your caravan. 
Average consumption should be taken into account for other uses such as heating or cooking. Whether the gas cylinder will be used indoors or outdoors is also important. A butane gas cylinder will not work in freezing temperatures. A propane gas cylinder will. Forklift trucks require special gas cylinders for liquid consumption. 
Which gas cylinder suits my needs?
Depending on your purpose, you need a different gas cylinder. Select an application.
What should you look out for when buying a gas cylinder?
There is the right gas cylinder for each particular use. Lightweight gas cylinders are more convenient to carry. They are perfect when you go camping! They are also ideal for occasional use such as for a barbecue during the summer months. Larger, heavier gas cylinders are perfect if you need gas on a daily or weekly basis. 
Not every appliance will work on propane as well as butane gas. The appliance manual states which type of gas you need. Sometimes it is also indicated on the appliance itself. If the appliance is suitable for propane as well as butane gas, you will only need the correct pressure regulator. If only propane gas is indicated as the appropriate fuel, then you cannot simply switch to butane gas and vice versa.
Always make sure that your new gas cylinder has the Antargaz seal on the valve. Then you can be sure of a high quality and safe product. Be sure to use the correct pressure regulator and a sufficiently long gas hose.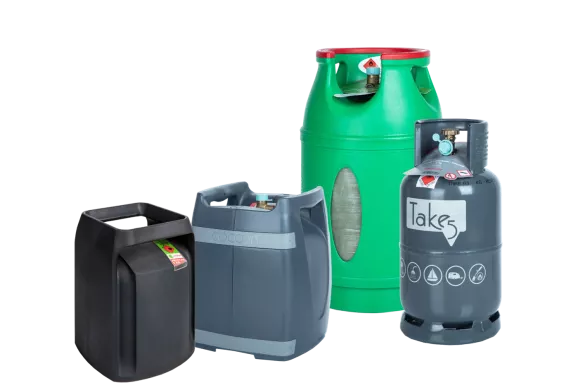 Our sleeve
Our grey 10.5 kg propane bottles and blue 12.5 kg butane bottles receive a new sleeve with every refill. The sleeve contains the latest product, safety and company information. We have now run out of red sleeves. Since May 2023, our new sleeve has a different look. 
What does a gas cylinder cost?
The prices per gas cylinder can be found on our website. These are recommended retail prices proposed by Antargaz. They obviously depend on the content of the gas cylinder - how much gas is in it? Is it propane or butane gas? 
You also pay a deposit for a new gas cylinder. In other words, the cylinder (container) remains the property of Antargaz. When you return the gas cylinder the deposit will be refunded. If you exchange your empty gas cylinder for a full one of the same type, you only have to pay for the gas and your deposit will still be valid. Please note that refilling an empty gas cylinder is not done under any circumstances. An empty gas cylinder must always be retested.
Why use a gas bottle from Antargaz?
We have the ideal gas cylinder for every application. Apart from our smallest gas bottles, you also have the typical steel gas bottles with a capacity of 10.5 to 46.5 kg of propane gas or 12.5 kg of butane gas. The applications are endless: from cooking on gas or weeding, to welding or drying crops. We have the ideal gas cylinders for handymen, the catering trade, construction, industry, agriculture, etc.

Our yellow gas bottles are specially designed for liquid propane. These are only suitable as fuel for forklift trucks. The Take5, with 5 kg of gas, is our do-it-yourself gas bottle. The Cocoon and Calypso are more for leisure use. The Cocoon, the new 'Cube' also with 5 kg gas, is ideal for a gas barbecue. The Calypso, with 8 kg gas, is our green camping gas bottle.
From 5kg to 46,5kg propane

More than 1000 sales points in the Benelux

All our cylinders come with a trusted deposit card

All the knowledge in house with perfect service
Where can I buy or refill my gas cylinder?
Antargaz has more than 1,000 distribution points in the Benelux. So there is a very good chance that there is a distributor near you.
Where can I do the following with a gas cylinder:
exchange
hand in
fill* 
buy
Looking for a gas cylinder dealer nearby? 
*Never refill a gas cylinder at a dealer or private filling station! Antargaz inspects empty gas cylinders at its depot. Cylinders still in good condition are refilled and put back on the market. The guarantee system exists for this purpose. Customers should always return their used gas cylinders to a sales point in their area. Antargaz will then collect the gas cylinders. 
Frequently asked questions